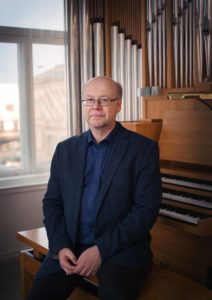 Dan Lönnqvist studied with Folke Forsman at the Sibelius Academy, graduating as an A-class organist and gaining a Masters degree in church music. He gave his debut organ recital in Helsinki Cathedral.
His studies of the organ have taken him abroad to Professors Hans Fagius (in Stockholm), Jon Laukvik (in Stuttgart) and Jacques van Oortmerssen (in Amsterdam). He has also participated in several master classes. Dan Lönnqvist has performed not only in the Nordic countries, but also in Germany, Poland, Lithuania, Latvia, Switzerland, Luxemburg, Italy, Czech Republic and in the USA (Washington National Cathedral). He has made numerous guest appearances at the Summer Organ Festival in Thüringen, Germany.
Dan Lönnqvist holds a Principal Lecturer post at Novia University of Applied Sciences in Jakobstad. As a long-standing chairman of the Calcanten society he has arranged such musical events as "Music for a Summer's Evening" and "Organ Concerts in Jakobstad". In 1989 he founded the Bel Canto Chamber Choir and has been its conductor ever since. He has held MasterClasses in Organ Music in Finland and abroad; Italy, Norway and Sweden at the International Organ Academy in Lövstabruk.
The Bel Canto has played a key role in Lönnqvist's engineering and conducting performances of such works as "A German Requiem" by Johannes Brahms, Johann Sebastian Bach's "St. Matthew Passion" and "Christmas Oratorio", Luigi Cherubini's and Wolfgang Amadeus Mozarts´ "Requiem", Giocchino Rossini's "Messe Solennelle", Anton Dvorak's "Mass in D" and Carl Orff's "Carmina Burana".